Reaching a long-sought-after goal can bring with it a myriad of emotions. It's more than likely a moment you've pictured in your mind for years beyond count.
In some instances, it extends all the way to when you were a kid with dreams of growing up. For most of us, it remains just that, a childhood dream. For the rare few that grow into men and reach these lofty aspirations, it's a chance to bask and give in to the moment and let your guard down.
Of course, I'm talking about winning the Stanley Cup.
And when that moment comes. When the game is won. And you're finally handed that illustrious silver trophy. A picture can truly be worth a thousand words. And even more in most cases.
Grown men will weep. Hugs will be shared by all. And another lucky group of NHL players will see their childhood dream realized.
Here are the 10 best pictures that capture all the pain, all the emotion, and all the childhood wonder that winning the Stanley Cup can bring.
It was a long journey for Selanne. He broke into the league with a record-setting 76 goal rookie campaign in 92-93. But it would be quite some time before he was able to hoist Stanley's Cup. 14 seasons to be exact.
He'd leave Anaheim for parts of four seasons before returning to the Ducks in 05-06. A year later he was a Stanley Cup Champion. This picture captures all the weight, all the relief, and all the excitement of the moment. A man finally setting his hands on a lifelong dream.
1975 Bobby Clarke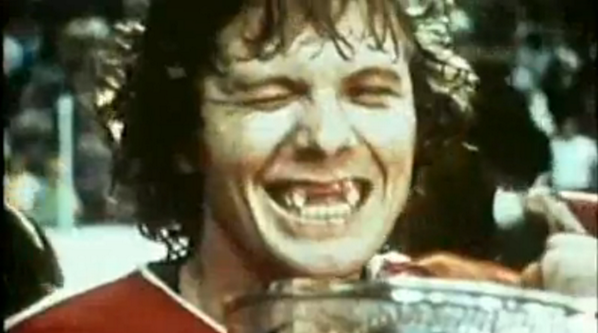 This is the most unique of the bunch. The image of a winking Bobby Clark with his toothless grin front center as he holds the Stanley Cup is burned into many hockey fans' minds.
Has a photo ever summed up a man so perfectly? Or even a sport? Everything about this pic paints the story that is Bobby Clark. A fearless competitor with a big personality. He would captain the Flyers to two Stanley Cups in '74 and '75. A magical, blink and you'll miss it a moment that's perfectly frozen in time.
This picture is an all-time great.
Zdeno Chara is a mountain of a man. It is known. And when the big man gets the blood pumping, people take notice. In 2011, after 13 seasons in NHL, Chara finally got to raise the Stanley Cup.
What I love about his photo is the emotion. You can almost hear him screaming through the picture. This was a man who gave blood, sweat, and tears on way to this championship.
Tied into the narrative is that this was the Bruins's first Cup since '72. All of it came together for this glorious Cup raising pic.
Talk about going out on top.
Lanny McDonald played 16 seasons in the NHL. He played 1,111 games and scored exactly 500 goals. But it wasn't until his final game during his final season that he finally got to hoist that fabled Cup.
Sure he may look like John C. Reilly from Gangs of New York in this pic. But this pic perfectly captures that moment of excitement and pride with a touch of relief. That's right, in 1989 Lanny got go out like so many athletes have dreamed of going out. A champion. Props to that amazing mustache too!
It took a few seasons before the Great One captured his first Stanley Cup. Four whole seasons.
Like everything else Gretzky seemed to do on the ice, he reached hockey's apex effortlessly and decided he liked the view. He would be part of a Dynasty in Edmonton that would win 4 Cups in 5 years under his leadership.
The first is always the most memorable though. In this photo, The Great One has never looked younger. Like a kid on Christmas morning. This is the moment he realized the Cup was his.
For two players that have both been labeled the greatest of their generation, Wayne Gretzky and Alex Ovechkin's journey toward a cup couldn't have been more different.
Gretzky won 4 Cups in his first 9 seasons. Ovi's first 12 seasons would be filled with postseason disappointments and the team underperforming. He excelled individually but it was soon being asked if Ovi was the Dan Marino of hockey. One of the greatest to lace 'em up, but couldn't win the big one.
In 2018, his 13th season, that all changed. The look on Ovi's face in this pic sums all that in an instant. Relief and raw emotion pour through. It felt like it would never happen. And now it has.
Man what a journey. Rod Brind'Amour would play 16 seasons in the NHL and never reach the ultimate prize..
Over the years developing the reputation as an 'iron man" at one point playing 483 consecutive games. He'd play 1484 total games and in his 17th season he finally reached the top of the hockey world.
This pic is just pure, raw emotion. You don't need to be a hockey fan to know what's going on in this photo. That moment you realize all that work paid off. Let the relief kick in and the celebration begin.
This is just one of those stories that hits you in the feels.
Vladimir Konstantinov's accident after winning the Cup in '97 tragically ended his hockey career and almost his life.
The following season the Red Wings won the Stanley Cup again in '98. During the on-ice celebration, Konstantinov was brought out in a wheelchair and handed the Stanley Cup. This pic is that exact moment.
One of those photos that remind us life is bigger than sports. But sometimes sport is a great unifier. This is an all-time great moment in NHL history.
Where to start with "the Messiah"?
How about we start with Mark Messier played 25 years in the NHL. 25 years. Twenty-Five!
Messier won 5 cups in Edmonton during their run in the late 80s. When he moved to New York, the Rangers were looking at just about a half-century championship drought. In '94, Moose put the team on his back, made a guarantee, and broke a 54-year dry spell for the city of NY.
This single image has to be one of the most recognizable in the history of the NHL. This is right when Messier put his hands on the Cup. The look of pure joy and elation. And a goal accomplished.
Ray Bourque was another Hall of Famer fortunate enough to have a fairy tale ending to his career.
In his first 21 seasons, Bourque came up short of a Cup in every single one. During that time he was selected for 18 all-star games (and 19th in his final epic season)!
And then when it seemed like it would never happen, in 2001, as a member of the Colorado Avalanche, he finally got a chance to hoist Lord Stanley's Cup before retiring.
In the pic, the emotion is almost palpable. That's the look of a man who thought this might never happen and now it has. A lifetime's worth of goals, work, and sweat finally paying off. What makes a grown man weep? A 20-year NHL career paying off at the last moment.