By Kris Weaver of the Beer League Tribune
March of 2020, for most of us, has started a "new normal".
We went from playing our weekly beer league game and staying in dressing rooms late into the night, to being stuck at and forced to train at home, Skype teammates, or have them over for "socially distanced team meetings".
Luckily over the past few months, some rinks have started to open. However, as every week passes, there are new rules put in place to keep adult league thriving.
Here are some ways rinks keep beer league hockey running during COVID 19.
HOME DRESSING
This is the big one that seems consistent from Tampa Bay to Vancouver and everywhere in-between.
As states started to open throughout the summer, this was a popular option for most rinks. It is a basic way to be sure everyone was "socially distant", and at the end of the day, why not have 40-year-old guys drive in the cooper-all pants and Jofa bucket for a 9 pm drop-in. If only someone could tie their skates!
As dumb as it looked, everyone just wanted to be back on the ice, and we were all glad to do our part. Hopefully, this is one of the new normals that doesn't stick.
TEMPERATURE CHECKS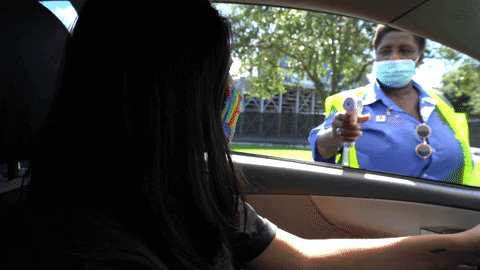 Throughout the summer, more and more cities began checking temperatures to get inside establishments like restaurants, bars, and workplaces. This tricked down to ice rinks as well.
While this was fine for most rinks, some took it to the next level. Some rinks required a team roster or a sign-up roster that would have to be checked at a front desk before you would be allowed to come into the facility after a successful temp check. An even smaller percentage required forms to be filled out stating where you have been over the past few weeks!
NO FANS
This one… not really a change. Who goes to watch beer league hockey at 11:00 PM on a Tuesday night?
So besides the one guy that tries really really hard when the wife or girlfriend shows up, no one is allowed at games.
It can be a bummer if you were lucky enough to play a tournament and couldn't watch friends play, or see who you would be playing in the championship.
GAMES ALLOWED?
One of the biggest X factors of beer league this summer… are games allowed?
While most rinks allow some sort of hockey right now, only a handful of places are allowing full league games as some states/provinces/counties have limited participants for indoor activities, and others aren't allowing contact sports.
This is leading to places that are treating games as "practices that just so happen to use a scoreboard" and other areas its play at your own risk.
MISCELLANEOUS RULES
If you're lucky enough to play games, are face-offs allowed? Vancouver, as well as some other areas, allow games with no face-offs — wishing we had a video to see what that looks like, but we will have to take them at their word!
Lots of rinks are limiting benches to just a handful of skaters. Some rinks have benches that have dividers to separate players… no more sliding down the bench and rolling lines at those rinks!
In addition to these precautions, dressing rooms are off-limits, and that means post-game showers are no more, and post-game brews are reserved for the "asphalt tavern".
COVID has made it a very tough summer for us all, but hopefully, hockey is back for you in some form! Someday soon, we all can get back to dressing rooms, real games, and post-game beers with buddies!
Find more by Kris Weaver on the Beer League Tribune [Instagram, Facebook, and Twitter]