The Pittsburgh Penguins recently released a Mic'd Up All Access video of Game 6 of the 2016 Stanley Cup Finals. Swear words muted aside, it's one of the best videos I've ever watched (I'm admittedly a biased Pens fan).
I'd pay top dollar to get mic'd up all-access coverage like this of any NHL game let alone a series-deciding Stanley Cup game.
The locker room before the game, the on-ice chirps, the sounds of hockey, the guys talking on the bench, the coaches yelling, the refs talking to the players, the players strategizing, I could go on for days.
Download the Hockey Players Club App
This precious footage gives light to epic moments that most are unaware of. Like this 30-second clip perfectly showing why Penguins Coach Mike Sullivan called Sidney Crosby, "the best leader he has ever met, in hockey or otherwise."
Evgeni Malkin and Chris Kunitz are on a clear 2 on 1. Geno feeds Kunitz a beautiful pass giving him a wide-open net. Instead of shooting, Kunitz passes back to Malkin, which he wasn't expecting, and the Penguins don't score.
The video then cuts to Kris Letang on the bench who is heard saying, "He had a wide-open net." We've all been there. Your teammate f*cks up. Maybe you say something under your breath, something you don't even realize you're saying.
Players and benches feed off of those comments. The negative energy is contagious. And once it spreads, it's hard to overcome.
That's where leaders are needed and that's where Captain Crosby comes in. The moment he heard Letang he immediately addressed it.
Looking in Letang's direction, "Hey, guys, I think he knows. Like, go give him a f*cking tap. It's okay. We'll get another f*cking chance."
Then, the Captain hops the boards, skates down to Kunitz, and says to him "Don't worry about it. Keep going, you'll get another one. Let's go!"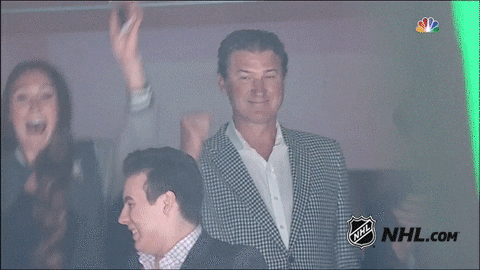 And as if that's not cool enough, Crosby ends the game with a HUGE blocked shot to give Patrick Hornqvist the puck for the series-clinching empty-net goal.
What a player. What a leader. What a moment.
More like this…
Today in Hockey History: Lemieux's 5 Goals Overshadows Mullen's Hat Trick at MSG
Today in Hockey History: Gretzky Sets the All-Time Playoff Goal Record
Today in Hockey History: Pavel Datsyuk Broke Logan Couture's Ankles
Today in Hockey History: Ron Hextall Scores the 1st Playoff Goal by a Goalie in NHL History
Today in Hockey History: Sidney Crosby Became the Youngest Player to Score 100 Points in NHL History
Today Hockey History: Patrick Roy Becomes the 1st Goalie in the NHL to Record 20 Playoff Shutouts
Listen and subscribe to the Hockey Players Club Podcast on iTunes, Spotify, Google Play, Stitcher, or Soundcloud.