Hockey movies are an essential part of every hockey player's life. They consume valuable bus trips and provide us with endless locker room material. And like any other classic movies, they're filled with kickass characters.
With so many quality hockey movies out there, we at the Hockey Player's Club pondered which characters would make the best team. So here it is, the greatest fictional hockey team ever assembled, or what we like to call, The Hockey Movie Dream Team:
1st Line: Youngblood – Banks – LaFlamme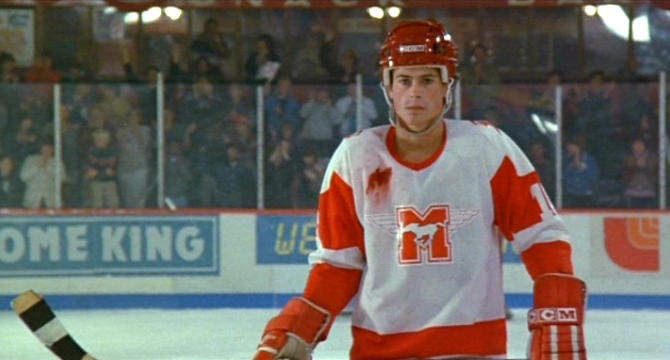 Dean Youngblood – The teen phenom is one of the most dynamic players in hockey movie history. Not only does he win the memorial cup on a penalty shot, but he stays on the ice to beat the piss out of Racki! Only downside: worst tape job of all time.
Adam Banks – Best player in the District, incredible ability to come back from injury, Varsity as a freshman. The list of accolades speaks for themselves.
Xavier LaFlamme – Sure, he has no work ethic and can become a team cancer, but you can't teach this guy's skill. Like a fictional Ovi, put him on a line with two good passers and enjoy the show.
2nd Line: Jack – Sutton – Braden
Jack the Monkey – Known for his deft speed and accuracy, Jack is one of the most prolific scorers in hockey movie history. Plus, he's a marketing team's wet dream.
Derek Sutton – The biggest beauty on the squad, Sutton brings unreal flow, leadership, and hazing abilities. Not to mention he's got the skill of a guy who casually scored 92 goals in major juniors as an 18-year-old.
Ned Braden – Ivy League educated, talented, and generally pissed off, Braden is the complete package. Not to mention his strip routines are known to draw a crowd.
3rd Line: Hanson – Hanson – Hanson
Jack, Steve, and Jeff – The infamous Hanson Brothers bring enough toughness and toys for the entire squad.  Our opponents know:  don't even look at these guys the wrong way during warm-ups or you'll catch a beating like a soda machine stealing their quarter. Their violent tendencies combined with above-average skill leaves our opponents injured and down by 1 early.
4th Line: Gilmore – Glatt – Rhea
Happy Gilmore – The guy will do anything for the squad, even take his skate off and try and stab an opponent. Guy's got a lot of intensity.  Not a real strong skater.  Ain't the best puck handler either. But man, he's got one hell of a shot! Plus we didn't have the balls to cut him.
Doug Glatt – You simply won't find another guy more committed to the team than "the Thug" and legend, Doug Glatt. Plus, his ET-like stomach light, lights the way for his teammates. Yes, we're as confused as you.
Ross "the boss" Rhea – This guy has fought his way to and from the show, winning along the way. Great locker room veteran and on-ice robocop for all the young skill on the team.
1st Defensive Pair: Tyler – Marden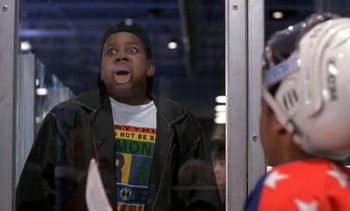 Russ Tyler – Russ Tyler is only second to Bobby Orr as the most innovative, forward-thinking defencemen of all time. Not only the creator and master of the "knuckle puck," his chirping skills are hall-of-fame status.
Skank Marden – "I play hockey and I fornicate, 'cause those are the two most fun things to do in cold weather." And he's known to be pretty good at both. A true legend.
2nd Defensive Pair: Reid – Portman
The Bash Brothers – Fulton Reid and Dean Portman simply add to the terror this hockey movie dream team brings to the rink. Their slap shots are known to make opponents dive out of the way and they love checking the same guy simultaneously. Talk about a tag team.
3rd Pair: Lane – Carlson
Adam "Tree" Lane – A 6′ 7″ mammoth on the blue line, "Tree" brings the intimidation and physicality to match. Even if it looks like he's using a junior-sized stick.
Dave "Killer" Carlson – The definition of a team guy. He went toe-to-toe with a mammoth of a man just cause he called his teammate old. He's the perfect guy to ride the pine until the next line brawl breaks out. Dave's a killer! Dave's a mess.
Starting Goaltender: Gaffney
Julie "the cat" Gaffney – Quickest glove in the West with a laser-like focus, the cat is ready to play in any high stakes scenario at the drop of a hat… even for the last shooter of a shootout for the World Junior Championship. And let us not forget that shutting out the Eden Hall Varsity team as a freshman the following year.
Backup Goaltender: Lemieux

Denis Lemieux – Your stereotypical goalie, Denis has a personal relationship with his posts and is just generally "off." But he gives one hell of a hockey tutorial.
What do you think? Who'd we miss? Comment below.
———————
Are you a member of the awesome hockey tape subscription service, the Hockey Players Club? If not, save yourself time and money and join today!