You think you've seen some shit? How about a Zamboni engulfed in flames while the driver continues to cut the ice?!
That's right, a Zamboni burst into flames Wednesday night as it was being operated at the Bill Gray's Regional Iceplex outside of Rochester, NY.
Apparently, even Zamboni drivers are hockey tough… the guy didn't even stop for a second.
Management at the iceplex says a hose on the machine broke, leaking fluid on the motor.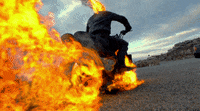 Fortunately, no one was injured and no players were on the ice at the time of the incident.
Here's a live look at the Zamboni driver leaving the rink following the incident: